Help Your Bridesmaids Save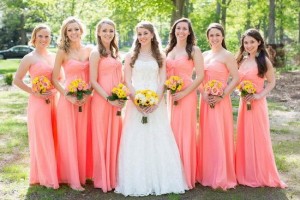 As you well know, weddings can be expensive, and those expenses extend down to your bridesmaids, too. You might have planned for a particular look, theme or idea for your wedding but may have not yet factored in how much it will cost people to be a part of your wedding. Here are ten ways you can help your bridesmaids save money and still enjoy their time.
Choose a budget friendly bachelorette party. You might want to have an all weekend event, but remember, if you are holding it out-of-town or you are bringing your bridesmaids in from all over the country, they have to pay for a hotel and perhaps a car rental, and then there are the meals they may have to buy. This might mean the difference for some bridesmaids between being able to attend and having to send their regards. Try to keep it simple. You might want to have a fun get together locally instead of an expensive option. That casual nature can help keep everyone's stress down, too.

Putting the events together. If your bridesmaids are flying in, you won't want to have them do so two or even three times for an engagement party, a bachelorette party, and then the wedding. Keep flight prices in mind and try to combine the events as much as you can.

Negotiate the hotel rates if you can. You might be able to get a discounted rate from a hotel or bed and breakfast if you have all of your bridesmaids stay there. You might get an even better deal if you hold one of your events there. Getting this done early means your bridesmaids can also book early and save.

Look for Groupon deals. There might be a way you all can go do something fun together if you find a great Groupon or Living Social deal.

Save on the dresses. There are some places that will rent bridesmaids' dresses for about $100 each instead of buying a dress she might not ever wear again. This also gives you the chance to let the ladies pick their own dresses around a theme or a color, instead of everyone looking exactly the same. Also, a

color theme

means they can go to a department store dress section and buy one that will suit them for the wedding and for future events.

Alter the accessories not the dress. If a dress might be a bit long, perhaps a pair of heels can correct things instead of choosing an expensive alteration. This method also saves on time, too, and the ladies can wear a shoe that they like and fits comfortably.

Be open to

DIY wedding

decorations. What a great way to do things together! Choose the decorations from your favorite magazine or website, and then make them as a group. It's a fun way to create a theme that means something to all of you. If anyone loves to scour antique shops or rummage sales, you can score some great vintage items to tailor to what you want to display.
Hair and

makeup DIY

. If your bridesmaids want to save a bit here, there is no harm in letting them do their own hair and makeup. After all, Duchess Kate did her own!

Give your bridesmaids gifts they can really use. There are some bridesmaids' gifts that are fun, but not terribly practical. Think of things that they might be able to use later, like jewelry or a nice set of stationery with a journal. This shows you care about them as the wonderful people they are.

Don't allow your bridesmaids to over volunteer. They may want to help you and show you their love but we all know that weddings are expensive for everyone involved and can be stressful. Being mindful of tasks will assure your bridesmaids sanity.
There you have it! Ten great ways to save your bridesmaids' budgets and still have a lovely wedding. Best wishes to you all.
MOsDJ
(800) 688-9704