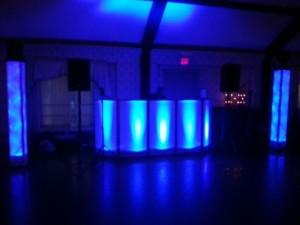 You and your fiancé are worried about the first dance so you've booked yourselves some dance lessons. Now you feel like on your wedding day you will be a confident, attractive, skilled and graceful couple as you glide around the dance floor. But what about the other dances in your pre-wedding plans? You know, the caterer, the DJ, photographer, the Videographer, etc.
Coordinating all the people and services that will help you bring your wedding ceremony and reception together, is a lot like choreographing a large dance sequence from a Hollywood musical. There are many steps, and many people in front of and behind the cameras, all working to make everything just right.
Cue the talent
It's ok if you want to book your caterers, florist, and make-up artist separate, but when it comes to entertainment services, it's better and wiser to bundle wedding vendors. Think about it. Instead of searching online for all the DJ's near your wedding venue, then doing the same for the Videographers, and then the Photographers, Wouldn't it be easier to call an all-inclusive company?
When you search the internet for DJ's and Photographers, you will find a number of companies that can provide both the music and the Photography/Videography services you are seeking. These companies can bundle services into customizable packages that can save you money.

Saving time, energy, money, and stress
Reducing stress may be high on your wedding planning wish list, but you can probably appreciate saving time, energy, and money too. Bundling your wedding vendors is one way of potentially realizing all those desires.
Stress and time can be reduced when you work with one, instead of many, service providers. You don't have to spend time making multiple phone calls, interviewing a group of DJ's, Photographers, and Videographers. You can just call one company, describe your plans and wishes, and the representative can put together options and talents to meet your needs and interests. (Be sure to check references and online reviews before making your decision.)
Save money
Most, all-inclusive, companies will offer discounts to couples who book more than one service through their organization. You save money when booking two or three services into a bundled customizable package. Your budget gets a break and your stress level goes down making you a better looking bride. If your budget doesn't allow you to hire a wedding planner, hiring an all-inclusive company maybe the best alternative. Because all the vendors are used to working together, the night will flow meticulously compared to hiring individual services.

Better service, better products
When you book an all-inclusive company their staff is used to working gigs together. They know each others talents, the set-up/break-down requirements, and how to work seamlessly together to provide an excellent service to their clients. They become a mutual support system that creates fewer interruptions and awkward moments during your wedding ceremony and reception. When you think about it, every vendor depends on each other to come up with good results. If your DJ fails to motivate and get people on the dance floor, your Photographer won't be able to get great shots of your guests dancing, and if your Photographer doesn't know how to set up group photos or pose the wedding party, it will affect your video production. When people are used to working together, they get better results.

When you bundle wedding vendors by hiring an all-in-one company, the only thing you need to focus on your wedding day is your new partner and enjoying the company of the people who are sharing this wonderful moment with you.
The weeks and months of preparation will be busy but they don't all have to be filled with anxiety and stress. Bundling your DJ, Photography and Videography services is a wonderful way to save money, secure quality talent, and reduce stress
MOsDJ
(862) 24M-OsDJ
(800) 688-9704