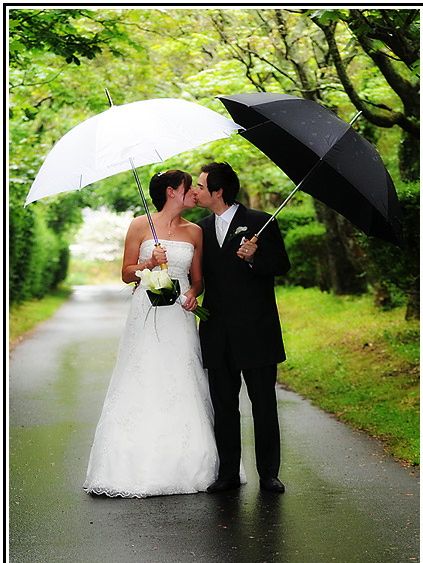 Ask any woman how she thinks her wedding day will be and she'll most likely describe an ideally romantic scene in which every little detail is anticipated and every variable is under perfect control. The ceremony will start and finish precisely on time, the music will be flawless and the food at the reception delicious. Nothing will go wrong on this most important day. The bride will see to it that the wedding and reception come off seamlessly, and in most cases, they do. There is only one variable that no one in the wedding party can control: the weather. A couple of days' warning of inclement weather from the weather forecast is all the wedding party will receive, so it is advisable that the couple has a plan B from the very beginning.
The first thing to do, upon hearing news of rain, is to go shopping for umbrellas for the wedding party. Make sure to buy enough for everyone and that the umbrellas match the attire of the wedding party in color and style. Also, remember to warn as many guests as possible about the rain so that they might bring their own protection. It is also a good idea to buy a couple of extra umbrellas for guests who are caught out without one.
Rain represents only a minor inconvenience if the wedding is held indoors, but it becomes a more serious matter if the ceremony takes place outside or under canopies. Therefore, your next step should be to look into some alternate indoor venues that might be available in case the rain develops into a really dangerous storm. To avoid this situation it is better to book a hall/venue that can host your wedding indoors in case of rain on your wedding day. However, if the original plan was scheduled to be held outdoors, many parks and churches have pavilions and conference rooms that can be used for the ceremony or reception. The safety of all participants must be top priority. Be sure to have cell phone numbers and email addresses of all the guests so that you can inform them of any last-minute changes in venue.
In all likelihood, the rain will be light, and the wedding will go off without a hitch. In this event, just relax and enjoy the situation! A light shower can actually serve to make the event more memorable. The attitude of the bride and groom are of the utmost importance. If they project an air of greeting about the rain, even embracing it, then the guests will be put at ease. Make the most of this incongruous situation. Adopt a playful stance towards it. Have the newlyweds pose for a romantic picture kissing under an umbrella! Viewed in such a way, a light shower is nothing to worry about. Here are some other tips/ideas to consider in case of rain on your wedding day:

Talk to your make up artist to ensure she has experience/tips using waterproof make up.

Ensure your

photographer

has worked weddings in the rain and knows what to do.

Rent tents for your DJ and guests, and have someone bring towels to dry chairs, benches, etc….

Ask your caterer about his experience with a rainy outdoor wedding menu.

Bring bug products to ensure your guests give you all their attention instead of swatting flies all night.
No, rain on your wedding day is not the worst thing ever to happen to a human being, and it's certainly not a reason to be blue on one of the most special days of your life. It's just one of those unexpected bumps in the road that every married couple is bound to encounter in their long walk through life together.
By MOsJD
(800)688-9704