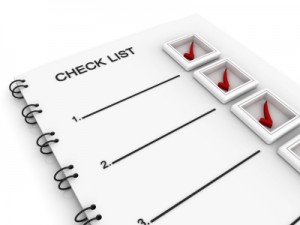 The wedding season is fast approaching and if you're not a natural planner, you may be hoping for a last minute "elope." Just a year or a few months ago, this roller coaster ride started with a hesitant question, a thrilled scream, some laughter and maybe even tears. Then the family got brought into the equation; caterers; disk jockeys; cake decorator; the wedding planner; the dresses; the bridesmaids; the flower girls…*pause* – *rewind.*
Maybe your man has recently popped the question and now you need to think about the next step of the planning process. Looking forward to this journey may initially seem awe-inspiring and you will most likely be tempted to take on too much. Delegation is the key, so find some trusty friends or family to help out. You don't have to do it all yourself. Besides, all you really want at this point is a successful wedding, right?
Planning your big day doesn't have to be complicated. The process is quite simple (though overwhelming) if you know what to do. There's no need to get harried over the grand event…at the end of the day, you and the man of your dreams will be married. So take a deep breath and follow the map. Hundreds of couples have gone through the process and they managed a successful wedding, so can you. Here are a couple of tips to help you achieve a successful wedding planning in nj:
Formalities
1. Set the date: you can't do much of anything until you have a set date.
2. Select the venue: make sure it is the appropriate size for the number of guests you expect. The general rule of thumb is to expect approximately  3/4 of the total number of guests you invited.
3.Select your Save-the-Date cards and Wedding Invitations: The look and style of the date cards and invitations will set the mood for the whole celebration. Colors on your invitations should be the same (or at least similar) to the colors you want to use for your wedding.
4.Selection of the bridesmaids and maid of honor: these positions hold high expectations. Though you may be drawn to asking your best friend from college, you want to select someone who is responsible and dependable. These are the ones you will grow quite dependent upon for help and support for planning your successful wedding over the next months.
5. Select your entertainment, photography and Videography Company: selecting the proper individuals for these tasks is extremely important. You will want to find people who compliment your style and conform to your requirements. Pay attention when you go to other functions to see who is handling these tasks and how they handle themselves; get referrals from friends and family. Make sure you can maintain your budget and talk to each individual personally to gain an understanding of whether you will be able to work together. Only hire professionals who have experience in weddings. We all know the saying that the entertainment you hire can make or brake you event.
Attire
6. Dresses: this portion of your wedding planning can get complicated. Most likely, your bridesmaids will have different physical structures. The dress you choose may look fantastic on one attendant, but completely inappropriate on another. Give careful consideration to the body shape and size of your bridesmaids. Remember, these ladies will be in pictures with you and may even be responsible for helping with the reception.
7. Shoes: remember that new shoes typically need some breaking in. No one wants blisters on their honeymoon, so consider your needs before-hand. It's also a good idea to have a change of shoes for ensured comfort at the reception.
8.Make-up: Some brides choose the do-it-yourself method. We recommend selecting a professional make-up artist. After all, your face is going to be in hundreds of pictures and you want to look your best. If you choose  to do it yourself, it's best to use waterproof make-up as you will likely be somewhat emotional. It's also wise to keep tissues handy to prevent smudges.
9.Hair: always, always, always have a trial run with your hairstylist! Additionally, it's extremely helpful to take photos for you to review and show friends and family. Get some feedback before you decide.
10.Decide if you're going to offer gifts to your bridesmaids: this one is self explanatory, but decide on a budget before you shop!
So now you have some useful tips on how start planning a successful wedding. What are you waiting for? You have a lot of work to do! MOsDJ's wedding and event planners are ready to assist you in planning a successful wedding. If you need additional tips or want our professional and experienced staff to assist you in planning your special day, give us a call and we'll be ready to take on the task. With MOsDJ entertainment by your side, you're ready to take the task on with confidence! We pride ourselves on being the first choice of many when it comes to wedding DJ in New Jersey.
(862) 24-MOsDJ
(800) 688-9704
www.mosdj.net
Written by Catherine
(MOsDJ's Wedding Consultant)