When planning an event, whether a Wedding, Sweet Sixteen, Bat/Bar Mitzvah, Corporate or Special event, there are several things you want to get right. Your primary goal is to ensure that you and your guest have a fabulous time. Some of the important things to look into are venues, catering, Photographer, Videographer, limo service; are you planning everything yourself or hiring an event planner, and much more.
It takes a lot of time and effort to ensure a smooth and satisfactory event. How about the entertainment aspect? A lot of people take in consideration all of whats involved in planning an event and leave the entertainment as one of the last things on the list. Isn't the entertainment one of the most important things on the list? What good is it to spend time and money to plan an event, if the entertainment you hire doesn't deliver the results you're expecting and/or fails to motivate and entertain your guests. I've heard a lot of stories where someone hires a DJ based on the lowest price and without any background information or referrals, and on their special day find out that they have made a regrettable mistake. There is an important saying that specially applies to entertainment, "you get what you pay for".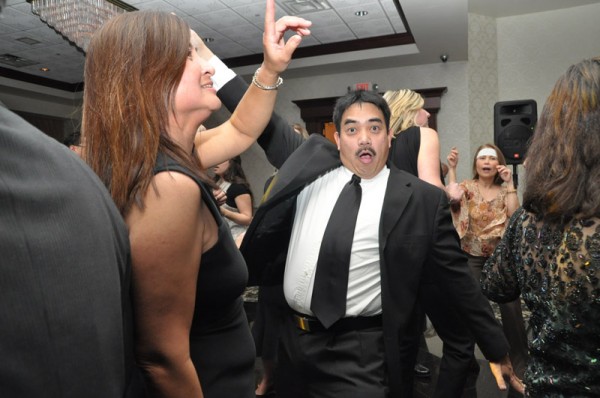 Why a professional:
A professional wedding DJ in NJ/entertainer has the experience and knowledge to motivate and interact with your guests and deliver the satisfaction you are looking for. A novice, which are usually the lowest priced DJs, will not have the necessary tools to ensure high quality entertainment.
Music:
In order to have a successful party, one has to have the right music. A professional wedding DJ has the latest tracks with the highest sound quality and the skills to cater to any ethnicity or styles of music. They can adapt to any mood or changes of events that can arouse in an affair. A professional DJ has the experience to use the music as a channel to motivate and excite the crowd.
Equipment:
A professional is only as good as the tools he/she uses. Don't expect an amazing job from a carpenter that doesn't have all the necessary tools to complete a job. In the same manner, a DJ who doesn't have good equipment will not be able to perform a job to your or your guests standards. Things like room conditions, room size, equipment power handling, and more, can affect sound quality and equipment reliability. MOsDJ  is a wholesale and retail vendor of DJ equipment, Pro-Audio and Stage Lighting. We bring the latest in technology to your event.
Insurance:
Having insurance is an essential part of being a professional wedding DJ in NJ. It covers the entertainer, venue and benefits you as a customer. If a DJ has insurance, it means that they are licensed in the practice and registered with the Inland Revenue. Most places require liability insurance in order to let entertainers perform at their venues, and they usually ask for insurance the week of the event. If your DJ does not have insurance, finding a DJ who has insurance a the last-minute could be a nightmare you do not want to experience.
Professionalism:
Professional entertainers give you peace of mind and carry themselves in a professional manner. They will respond promptly to your calls, emails, questions, quotes and requests in an organized and informative manner. MOsDJ will provide you with a personal demo and meet with you to sign contracts, plan events, and formulate programs. We are dedicated to our customers and provide the attention they deserve before, on, and after their event. We will be ready to provide professional entertainment when your first guest arrives.
Reputation:
Most DJ companies get bookings based on referrals and feedback. It is extremely important for a professional DJ company to uphold its reputation. If a DJ does not have any referrals or feedback they can provide you with, look-out, this is not a good sign. Moreover, a reliable company will always have a back up plan in case a DJ is not able to make an event. These are signs of a reputable and professional wedding DJ in NJ.
knowledgeable staff:
There are endless kinds of DJ's. Wedding DJs, Club/Lounge DJ's, Sweet 16 DJ's, House DJ's and he list goes on… A club DJ may not be the best option for a wedding reception, just like a plumber is not the best option for electrical work. We, at MOsDJ, have a number of knowledgeable staff that specialize in each of our listed party categories. They will be able to read the crowd and select the right music based on their experience.
MOsDJ recognizes that budget is an extremely important part of a planning process. We also know that balloons and a cake alone don't make a good party. When booking and pricing DJ's remember that good entertainment is not cheap and the best DJ's get booked quick. Don't leave the entertainment for last. Be wise when making your selection and know that if the price sounds too good to be true, it could backfire for you. Hiring a professional DJ/DJ company is the worry free approach to a successful celebration.