Planning your dream wedding doesn't have to be expensive. We are happy to provide you with tips on how to have the best wedding ever. People often think that if you spend a lot of money, you'll have a great wedding. I say that if you fail to plan, with a maximum budget in mind, you plan to fail. Here are a few tips on how to have a successful wedding.
Know your limits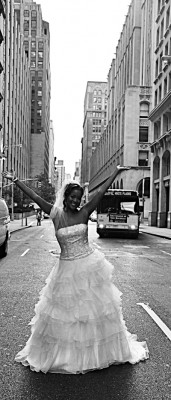 One of the top 3 reasons couples fight about is money. You don't want to start your marriage with a big debt, so planning a dream wedding you can afford is key. I personally know of a couple who spent a fortune on their wedding, and although I tried to stir them to a less expensive entertainment package, they decide to go all out. A year later, they filed for bankruptcy and almost got divorced. Planning a big formal wedding celebration is excellent if you can afford it. Otherwise, determining a realistic budget is a smart thing to do. Some of the things to look for when budgeting are: how many guests should you invite, what time of season and month should you get married on (try to stay away from peak wedding seasons like June. July, August), do you really need layer, wrap & pocket invitations, what about the honeymoon and much more. Planning a dream wedding that reflects who you are will allow you to be less stressed and enjoy your wedding day. If you are a shy and reserved person, planning an enormous wedding will run you over budget with little enjoyment.
Research when hiring vendors
Researching vendors is not only important when planning a dream wedding, it's vital. There are a lot of wedding websites and free wedding magazines that will help find vendors for your magical day. You can attend bridal shows (but be careful) or see vendors at friends events. You got to keep in mind that every bride has a different expectation and vision for her wedding and every wedding should be unique and distinct. For that reason, just because a vendor showcases great reviews on a wedding website, doesn't mean that they are the right fit for you. It is important to meet with your vendor and see if they are a good match for your needs and budget. If a vendor doesn't feel sincere and right to you, keep looking. After all, this may be one of the most important days of your life. Studies show that 72% of brides, after their wedding, say they would have spent more time choosing their entertainment services. The DJ you select will be responsible for over 80% of the success of your wedding. If he/she is a poor performer, or is not the best match for you or worse yet doesn't show up, your entire event would be wasted, not just 80%.
Whats most important to you
There are infinite wedding ideas and endless resources available to help brides such as magazines, websites, TV shows, and more. The problem with so many resources is that they can overwhelm a bride and make her feel like she needs to have everything that she sees. No you don't need to have it all. Decide what is most important for you and your wallet, and do away with the things you and your guests won't remember or even notice. Studies show that while planning a wedding, brides focus on attire, followed by venues and catering. Reception entertainment is among the least of their highest priorities.
After the wedding:
78% of brides say they would have made the entertainment their 1st or 2nd highest priority.

81% of the guests say the thing they remember most about a wedding is the entertainment.

100% of brides say they would have spent more of their budget on entertainment.
Getting rid of the unnecessary things and distributing your budget where it really counts, can assure you a successful celebration.
Enjoy every moment
You have been planning this day for months and dreaming about what this day should/will be like. So many couples can attest that their wedding was a blur that they barely remember. We, MOsDJ, often remind our clients to wake up and savor the moment. One of the many tips we offer our customers is to take ten minutes of the wedding and enjoy a glass of champagne in a separate room by themselves. This allows them to be more conscious of the moment, more attentive to each other, and mindful of enjoying the event. Consider taking time for reflection. Don't get so wrapped up with the details of your wedding that you fail to enjoy the moment. Delegate and let go. This is one of those moments that you have to enjoy while it lasts.
MOsDJ offers a full line of entertainment services with an uncompromising eye to detail. When you book with us, you are assuring yourself a stress free wedding. Call us to talk about how your wedding can be the best wedding ever.
(862) 24-MOsDJ
(800) 688-9704