Yes it is. When you are shopping around for prices at different venues, take a moment to envision how everything will tie together at your event. wouldn't it look beautiful if you use the standard, "bright-white", house lights on the ceiling. They would compliment your decorations and would definitely motivate your guests to dance, don't you agree?…….not. Lighting sets the tone and mood of your theme, in combination with your decor. Bright white lights will shut down the dance floor. Most people won't come out to the dance floor if it feels like day light at a party, specially at a wedding or sweet sixteen. Lighting is a key element used to flourish and liven up a party's atmosphere.
The use of DJ lights
Lighting can be used in many ways. It can be used to spark the ambiance of your celebration and give your guests absolute freedom at the dance floor, where they would feel comfortable and motivated to dance, instead of self-conscious. It can also be used to impress your guests, specially if you are having a laser light show. Some lights can be used as spotlights for first dances at weddings or father/daughter dances at sweet sixteens. It could even be used as a spot light when breaking the cake, to give you the full attention of your guests. Lighting can also be used behind the DJ booth to give the room the ultimate look. In addition, there is a special type of lighting (up lighting) that is used to dress up the lining of the walls and shower the room with the color of your choice.
Up lighting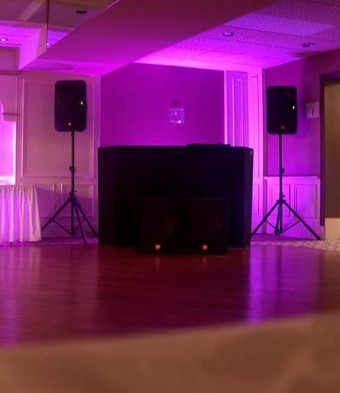 Up lighting are lights setup around a room that shine up towards walls and ceilings, elegantly enhancing the ambiance of any room. They range from a wide variety of elegant colors (pink, blue, lavender etc.) and can turn a boring room into a colorful environment. If you color coordinate the decorations, center pieces, tables and chairs to match the up lighting on the walls, you would have a visually stunning atmosphere, resulting in an unforgettable experience for you and your guests. Just like having the right wedding DJ is crucial, thinking about the lighting (whether DJ lights or up lighting) is as important to give your event the characteristics needed to make a great impression on you guests. Lighting is one of those details that binds everything together and is very often overlooked.
The best lights to use for up lighting are LED lights. Most of the venues do not carry this type of lights. For this reason, you would have to hire a lighting vendor or let your DJ handle the up lighting at a lower cost. MOsDJ is a wholesale dealer of DJ equipment and professional lighting. Therefore, we carry the most recent developing technologies in DJ gear and lighting, at an amateur price.
Thru lighting, you can show your guests that their enjoyment is important to you. If you think about how much you spend on flowers and center pieces for an elegant look of your wedding reception or celebration, know that lighting is the area where you would probably spend the least and get the most value for you money. With lighting, your affair will be an instant "wow" the minute your guests walk into your event.
MOsDJ
(800) 688-9704