For someone who is getting married for the first time, selecting photography options, albums, layouts and design can be quite complicated. There are so many choices and options available that you can spend months researching and narrowing your preferences. It doesn't help that wedding professionals often apply different marketing terms to photo albums for advertising purposes, leaving you all the more confused. In this post, we'll attempt to summarize some of the terms used for wedding albums and make it easier for  you to understand the language and make your selection.
Photo Books/Albums
Albums range in many designs. Some albums have traditional slipped-into compartments; Others are heavy paper books with adhesive pages where photos can be glued or attached; While others are digital books with digitally printed photos.
Self-Mounted Photo Album
This album is the most traditional album. It contains plastic sheets that can feature photos in any desired pattern. Most photographers and studios don't use this type of old fashion albums as it has been replaced by more elegant designs.

Matted Album
This albums feature an insert frame in which photos can be mounted. They come with mats (which usually have to be purchased) that lay over the photo and stick to the album using adhesive corners.
Digital Photo Books
Here's where confusion often arises. Magazine style wedding albums, digital books, coffee table book, art book, storybook, flush mount and montage albums all fall under the general "DIGITAL ALBUM" category. Digital albums have photos digitally printed onto pages and give the album designer limitless designing and arrangement possibilities. They can differ in layout, size, style and quality. You can also choose from a variety of paper style( ex: metallic, lustre, textured).

Coffee table book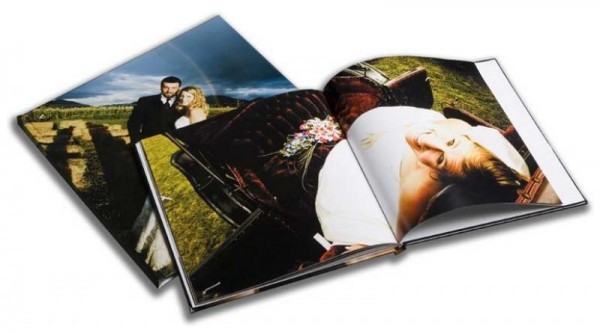 A coffee table book is a type of digital book and is one of the most popular selection of wedding albums today. They can vary in sizes from small to large and can be purchased in soft a cover, leather or leatherette.  The larger books are typically bound in hard covers (similar to flush mount albums). Because they can be very similar but less expensive than flush mount albums, brides typically opt for a larger coffee table book as their wedding album of choice. The smaller table books are normally bound in a soft cover with thin inner pages. They are printed using digital settings to produce a true book like appearance. Coffee table books consist of computer generated layouts that can feature a magazine style or fashionable design. Their quality can vary from ordinary paper prints (smaller books) to inkjet print (larger books).
Flush Mount Album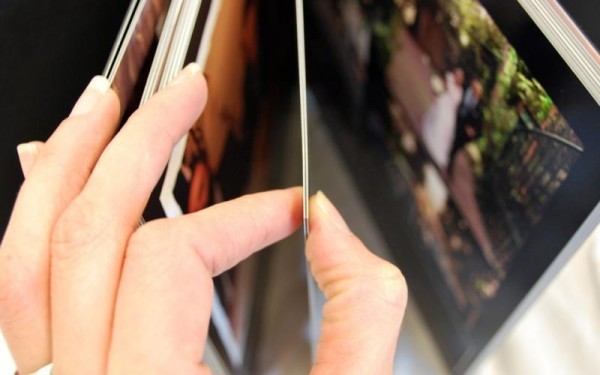 Flush mount digital albums are always designed with hard bound book covers with cardboard-like pages. The covers are mostly made of leather and leatherette. They are the most elegant and costly wedding album. Their layouts contain a high quality magazine-style design, and their photographic prints are flush mounted onto cardboard-like pages. Both coffee table and flush mount are printed digitally. Coffee table books are printed on ordinary paper (lower quality), whereas flush mounts are printed on photographic paper (higher quality).
Storybook albums
A storybook is exactly what it sounds like, a story. Storybooks tell the story of a wedding or event from the very beginning to the end. They are usually small books than can be printed digitally and can feature text to go along with the images to better narrate the story. Like all digital books, they can be designed using computer generated programs.
Magazine style and Montage albums
Magazine-style albums and montage albums refer to the design of the album rather than a type of album. They are merely  a style of digital photo album or design.
While there is a large range of choices when selecting photography options and albums/books, one has to keep in mind the direct cost. MOsDJ representatives will be glad to help you select the best album/book, design, layout, style and prices for your budget. Contact us to find out tips and hints of the trade.
(862) 24-MOsDJ
(800) 688-9704