There are so many people out there who can take pictures, and most of them take really good pictures, but how do you know who to hire to be your wedding photographer? How can you decide who is professional, knowledgeable, and reputable? Here are a few things to consider and questions to ask your prospective photographer.
1. One of the best ways to pick a photographer is to look at references. Good photographers will have excellent references, and they rely on them to be their advertisement. Prior customer feedback tells the tale of exactly how your photographer will be on the big day. Remember, this is someone who will be with you almost all day, taking pictures in ways that are (hopefully) unobtrusive. You don't want to work with someone whom you don't feel a chemistry with.

2. Be sure that the person you hire specializes in weddings. Wedding photography requires a unique eye to be sure the lighting is correct and the composition is just right. Your potential wedding photographer should be willing to meet with you, get to know you, and understand your needs. He or she should really love to photograph weddings, and you should be able to make a good connection him/her. Experience as a wedding photographer is also not just based on years of experience, but the number of weddings shot.
3. Is your photographer familiar with your chosen venue, or is he or she willing to visit it ahead of time to get an idea of the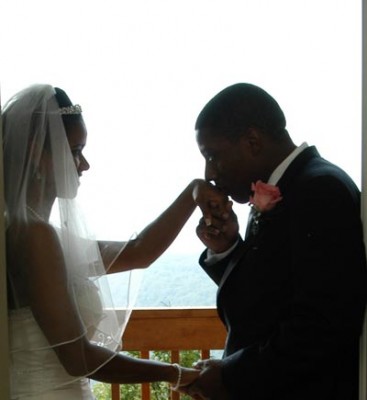 ambient lighting, the arrangement of the rooms and the furniture within them, and the layout of the building overall?
4. Ask your photographer what his or her style is. Does he or she believe in telling a story with their pictures, or can he or she capture the romance of the day between the craziness of all of the events?
5. What does the photographer's schedule look like that weekend? A photographer who books more than one event over the course of the weekend may find that he or she is rushed and cannot devote the right amount of time to your event. There is no good way that he or she will be able to provide the best customer service with too much on the plate.
6. Is your photographer willing to provide a copy of the contract to you? If not, steer clear. Both parties should have a copy so there is no misunderstanding about what is and is not provided, as well as what the charges will be. The contract should also include what happens if the reception runs over time, including any charges.
7. Does your photographer have a plan B if heaven forbid he or she is sick on the day? You should know whether another partner in the company will take over, or if there will be a subcontracted company that will step in.
8. Does your photographer have insurance and a bond (if your state requires it)? Your photographer should carry enough insurance to cover any damage to or loss of equipment, and there should be general liability insurance coverage, too.
9. Will your photographer do any editing? There should be proofs provided to you, then you can choose what digital filters can be applied, color correction done, and cropping done.
Ultimately, you should be sure after interviewing your potential photographer that you are comfortable with him or her, since that person is going to be a big part of your big day. Hopefully, this gives you the basics of how to search and choose your wedding photographer. If you have any additional questions, feel free to contact us and we'll be more than glad to answer all of your questions. If you are looking for professional, reasonable and reputable photographers, look no further. We have the experience and professionalism, along with the breath-taking shots, that you are looking for. Contact us and see how we can make your event even more amazing!

Written by MOsDJ
(800) 688-9704
(862) 24M-OsDJ