To tip or not to tip? There is always that awkward pause after you have had the flowers delivered or the DJ has finished playing – should I tip them or does their fee already include the tip? It can be confusing, specially if you are planning an event or wedding on a budget, but hopefully we can help clear this up for you.
First, why is it important to tip? It is a way of saying thank you to people for what they have done to help you. Often times, their salary is minimum wage or just above it, and they rely on tips to augment their income. Some contracts specify the amount of gratuity that is expected. If your contracts do not, you may wish to consider negotiating that into the contract, so you have one less thing to worry about on the big day.
Alternatives to tips –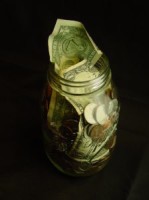 Business owners who are self-proprietors typically do not get tips, but if they have any employees who are working your wedding, those folks should receive a tip. People like your wedding planner do not have to have a formal tip, but it is a good idea to give them a special gift, like a fruit basket, a restaurant gift certificate, or complimentary photos that he or she can use for the portfolio. These gifts can be given upon returning from your honeymoon. Your officiant may or may not be able to take a tip. If not, you can make a special donation to the church or synagogue's name anywhere from $100 to $500.
Tip amounts –
Now for the nitty-gritty. If you ever have any questions about how much you should tip, check with your wedding planner. He or she will know the going rates in your area. Hair stylists and makeup artists usually receive between 15% and 20%. Delivery persons such as those from the florist or the bakery should get a small tip, such as $5 – $10, with the higher amounts given to those who have to bring in more items. DJs and musicians should receive a tip, even though they have received a portion of the money that is given to the company. Your best man can give them an envelope with about $20 for each musician or $50-$150 for your DJ. Photographers and Videographers should also be tipped with an average of $50-$200. If it is not already in your contract, you can tip your limousine driver 15% – 20%.
A service charge for the maitre d' and banquet manager is almost always included with the food and drink fee. Unless the amount is in the contract and already included in what you have paid thevenue, you should expect to tip either 15%-20% of the food and drinks fee or about $250-$350 to the maitre d'.

You will have enough on your plate on the day of the wedding, so designating a person who will be the central distributor should be a must. This task often falls to the best man. You should also include your vendors in your list of thank you notes to write when you return from your honeymoon, as a note of thanks can go a long ways and it can be used as a company review.
Now that you know why, who and the recommended amounts to tip, you can decide whether to tip or not. The decision is always yours but people who go the extra mile to ensure your event flows perfectly should be recognized and compensated for their efforts, specially those who treat your event like their own.
MOsDJ
(800) 688-9704
(862) 24M-OsDJ