Things a Sweet 16 DJ Must Do For Your Party to Succeed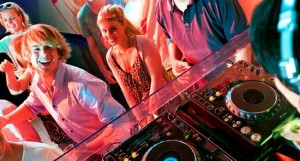 It's time for the big party! Your sweet 16 is finally here. You and your parents have been planning this event for several months, maybe even years. You have everything arranged from the venue to the guest list, but you still need a DJ and you know that the DJ is the heart of the event. Here are some things your DJ needs to do so you will have the best party ever.
1. Play the best music possible. This seems obvious, but you should check over theplaylist. He or she should have the best and most danceable music available, whether you want to disco the night away with a retro theme or keep up with the hottest sounds of today. For teens, a club atmosphere is a must, so make sure your DJ can blend the music smoothly. Changing from song to song without a smooth transition will kill the dancing mood and your guests won't be motivated to dance. Your DJ should also have enough music to last as long as your party does. Nothing could be lamer than repeating songs. Be sure to send your DJ your list of requests, so he or she can be sure to bring those songs.

2. Have the best equipment. The best music means nothing if you don't have good speakers to broadcast with. Make sure your DJ has top of the line equipment but don't just ask him, go see it. The mixer he or she uses should have a way to ensure the music is seamless and compatible. If you want, your DJ can also bring in sets of LED lights that match the music beat for a spectacular show. For teen parties, a good light show is a necessity. This will ensure that the bright white house lights are dimmed and colorful light rays are projected throughout the venue. The result – all your guest won't be shy to dance and will get on the dance floor. A good DJ will also bring a backup for every piece of equipment, since electronics can fail, and often at the worst times possible.
3. Be a good master of ceremonies. Although we highly recommend having a two-man crew so that a separate person is your emcee, your DJ can introduce you when the party starts, coordinate the candle lighting, and announce the father-daughter dance. They should be flexible enough to accommodate any changes that happen, and interact with the guests as appropriate. You want your DJ to bring the fun, not just the music.
4. Come from a company that can bring all the entertainment. Life gets so much easier when you can book one company to handle all of the entertainment – the photo booth, the lighting (both ambient and dynamic), and even the red carpet. Yes, the red carpet! Have you ever dreamed of being a big star and being invited to all of the major premieres? Now's your chance! You can have the velvet ropes lining the red carpet, guiding you and your guests into the venue. A backdrop gives the name of the party, just like a real red carpet event! Photographers will line the path, snapping photos of all your attendees, then later turn those pictures into an unforgettable scrapbook. It is way less stressful to have one company take care of it all, than to have to get a separate DJ, Photographer, Videographer, Photo booth company and the list goes on.

5. Guarantee his or her work. You want to be sure that the DJ company you pick is reliable and will make sure your party is the best it can be. Check their website for any customer satisfaction guarantees, and also look for things like bringing backup equipment, a willingness to play the music you want to hear, professional standards, a dress code, and flexibility to make sure you, the customer, are happy. You can find most of this signs in their reviews. Make sure he/she has great reviews because a DJ or company without good reviews is a big NO.

If you want to feel like a princess on your special day, contact us. We have all of the qualities (and beyond what we mentioned) to make your birthday a success. But don't just take our word for it, read our raving reviews. Our one and only priority is to make sure you and your guests enjoy your party to the fullest because we are fully committed to customer satisfaction. Go on and see how we can transform your event into a fairy tale. Have a wonderful day, birthday girl!

Written by MOsDJ
(800) 688-9704
(862) 24M-OsDJ