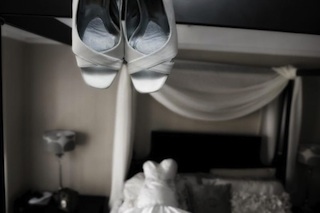 Are you looking for wedding theme ideas but just don't know yet what you want to do? Read on as we cover the top trending wedding themes in NJ from 2013/14, and add some fun ideas and tips to choose from.
1. A garden wedding
What better way to take advantage of the lovely flowers and sunnier skies of spring and summer than to have a garden wedding theme in NJ? After, all we are in the Garden state. If you have a garden of your own you can always host it there, but if you do not, fear not, for there are many bed & breakfasts and public gardens that will allow you to host your wedding there.
2. Dramatic entrances
Big decorations can lead to big memories. Imagine massive chandeliers with small lights all over them. Huge centerpieces create an unforgettable effect. Dark colors offset by a brilliant blue make for a stunning contrast.
3. Fall weddings and neutral tones
Images of families cozying up and the gorgeous colors of fall come to mind when you think of a fall wedding theme in NJ. The warmth of browns and the colors of leaves will never be dull.
4. Rustic or woodland
Think of images of simpler times, barns, and nature. Flowers cut and put into Mason jars and cute cottage decorations can adorn your tables, while line dances keep things lively on the barn floor. Imagine walking down a grassy lane towards your beloved, surrounded by friends and family, without the confines of a building.
5. Vibrant colors
Forget soft pastels, go for bright wedding colors! Pinks, blues, and greens will be cheery and memorable, and perfect for summer. Summer flowers will look lovely, and your bridesmaids can wear pretty floral sundresses. Holding this kind of wedding outdoors will be able to take advantage of the bright sunlight.
6. Shimmers and sparkles
Think of a stunning winter wedding with white and silver all around. Metallic sparkles will be the perfect finishing touch and make your wedding shiny. This is also attractive for a city wedding, reminiscent of the glittering steel all around you.
7. Everything old is new again
You can never go wrong with vintage. It's romantic and comforting. If you want to take things a bit farther, you can go steampunk. You'll never have to worry about finding "something old" when you choose this theme.
8. Your favorite geek theme
Whether you choose to put "I love you" – "I know" in your wedding vows and have your groom dress like Han Solo, or you pledge to "Live long and prosper", you can have a geek-themed wedding that will keep your guests entertained and you happy doing something you love.
9. Boho weddings
The boho wedding theme of simplicity and elegance is a big trend this year. A quiet wedding on the beach is relaxing, which leads your guests into that mood. Your reception surfside will be fun, festive, and inviting. Everyone can gather around a clambake, or dance the night away on a hotel deck overlooking the ocean. There are many places around our beaches that would love to host a boho wedding theme.
10. A holiday wedding
For the super romantic, a Valentine's Day wedding is a must, but others who love Goth may think that a Halloween wedding is befitting. You can work with your caterer to make sure he/she can create a seasonal food theme, too.
Whatever theme you choose, it should be a reflection of you and your beloved. To have a wedding theme just to say you have a "theme" might come across as artificial, so pick something that is truly a part of your lives together. Whether you need ideas for your wedding or a wedding program, if you are having a hard time organizing a time table, MOsDJ is here to help! We are experts in taking away that one thing we all go through when we get married, STRESS…. Contact us and let's plan your dream wedding together.

Written by Catherine
Wedding planner for MOsDJ Entertainment
(800) 688-9704
(862) 24M-OSDJ