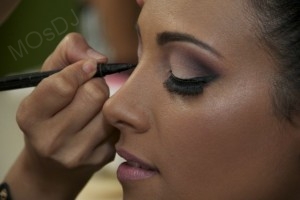 Your anticipated day is fast approaching and you know you want to look perfect for everyone, especially your fiance'. But what kind of makeup do you want to do? How do you want to look? Here are some wedding makeup dos and don'ts experts recommend.
Give it a trial run
You will want to give your wedding makeup a trial run. Plan this event to happen about 3-4 weeks prior to your wedding day, so your seasonal skin tones will be able to be incorporated into the colors you choose. You should wear a light colored shirt for your trial so that it will mimic the color of your dress. You will also want to look at how the makeup looks in lighting similar to your venue, as well as outdoor lighting, not just how it looks under artificial light. Bring along a camera to take several pictures under different light settings so the big day can be replicated as closely as possible.
The eyes have it
When your guests look at you, they'll be searching for the joy in your eyes thanks to your beloved. Take care of any dark circles under the eyes to bring brightness to them. Instead of heavily plucked brows or harshly drawn ones, leave them soft but well groomed to provide a frame for your eyes. A light highlight under your brow will give you a wide-eyed glow. You should avoid a smoky eye for a wedding – you'll look either tired or like you were punched in the eye. If your eyes are a little bloodshot, make sure to use an eye drop to help get the redness under control.
Colorful you, colorful makeup
Think about your wedding colors and/or the theme of your wedding, and let them help guide the colors of your makeup. Remember that your dress will be very pale, so you want to have enough vibrant colors in your makeup to keep you from looking washed out. A bright blush on your cheeks and a soft colored lip will make you look refreshed and lively. A polished canvas of a natural looking face with a long-lasting foundation will be the way to start. You should stay away from high sheen or high glitter cosmetics – they can be distracting and make your pictures look very dated quickly.
To lash or not to lash?
Do you typically use false lashes? If you do not, you may want to go subtle and use some sparsely designed ones that just add a hint of longer lashes, or you can use individual lashes between your natural lashes for an elegant effect.
Doing it yourself or hiring a pro?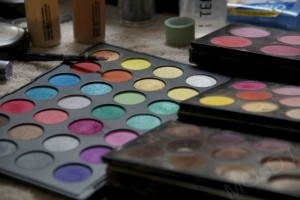 Kate Middleton did her own makeup for her wedding to Prince William, but many brides are so nervous on their wedding day that they are not able to hold their hands steady. This is where hiring a professional might be the best option. He or she might also have a line of high-end products in his or her kit that is designed to look great for photos and last a long time. Just make sure you control what you want to look like and not what the artist wants to do. Your best bet is to be the best you.
Don't go too heavy
Heavy makeup is more likely to slide and also make you look artificial, particularly if you do outdoor photography. Remember – you want people to see you, not your makeup.
Avoid being too trendy
How many 80s brides look back at their wedding pictures and cringe at the extremely blue eyeshadow? You will be looking at the pictures and your wedding makeup for the rest of your life, so have your makeup look classic.
Don't rush the process
Your makeup might take as long as 45 to 60 minutes to do on your wedding day. Make sure you allow enough time for taking care of your makeup. Plus, this is a little time for you to do absolutely nothing and relax for a while.
We hope this has given you some ideas of what to do on your big day. More importantly than anything else, a big smile is the best accent of all, so relax and enjoy the experience! Keep in mind that MOsDJ entertainment is an all inclusive company that offers all services. If you want a free consultation and makeup demo, contact us to arrange an appointment.

MOsDJ
(800) 688-9704
(862) 24M-OSDJ